BALANCED SKIN KIT - Acne-prone Skin Types
00012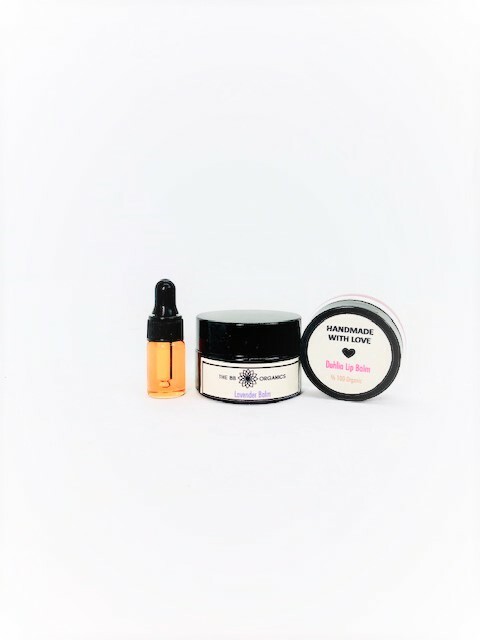 Created for irritated or acne-prone skin to help calm inflammation and balance the sebum.
Lavender Balm will do wonders for your skin health while offering added benefits of calming and mood-lifting. With natural properties such as anti-inflammatory, anti-bacterial, insect repellent and antiseptic, this Lavender Balm help all skin types and even benefit conditions like acne, wounds, scars, and burns. It re-balances the over-secretion of sebum and inhibits bacteria causing an infection becoming an excellent asset in fighting acne. It has cleansing and antiseptic properties that help mild blemishes from forming as well as keeping pores unclogged.

Blemish Acne Defense Oil: This mix of powerful, yet gentle oils is great for treating acne because of the natural antibacterial and anti-inflammatory properties.
Lemon Lip Balm: Perfect to complete the morning and night regimen to soothe and nourish your lips.
HOW TO USE:
After cleansing your Face apply Lavender Balm to irritated and acne-prone areas or whole Face, dispense 1 drops of Blemish Acne Defense Oil and press gentle top of your blemishes. Apply Dahlia Lip Balm to your lips for the final hydrating touch.
Paraben free, Sulfate free, Cruelty free, Made WITHOUT artificial ingredients, fillers, alcohol, animal ingredients, Fragrances, sulfates, artificial colors, or unnatural preservatives.
WARNINGS: For external use only. Skin sensitivities may occur. Discontinue use if rash, allergy or irritation develops. Keep out of eyes.
Made in USA
INSIDE:
Lavender Balm - 15ml
Lemon Lip Balm - 7ml
Blemish Acne Defense Oil - 3ml