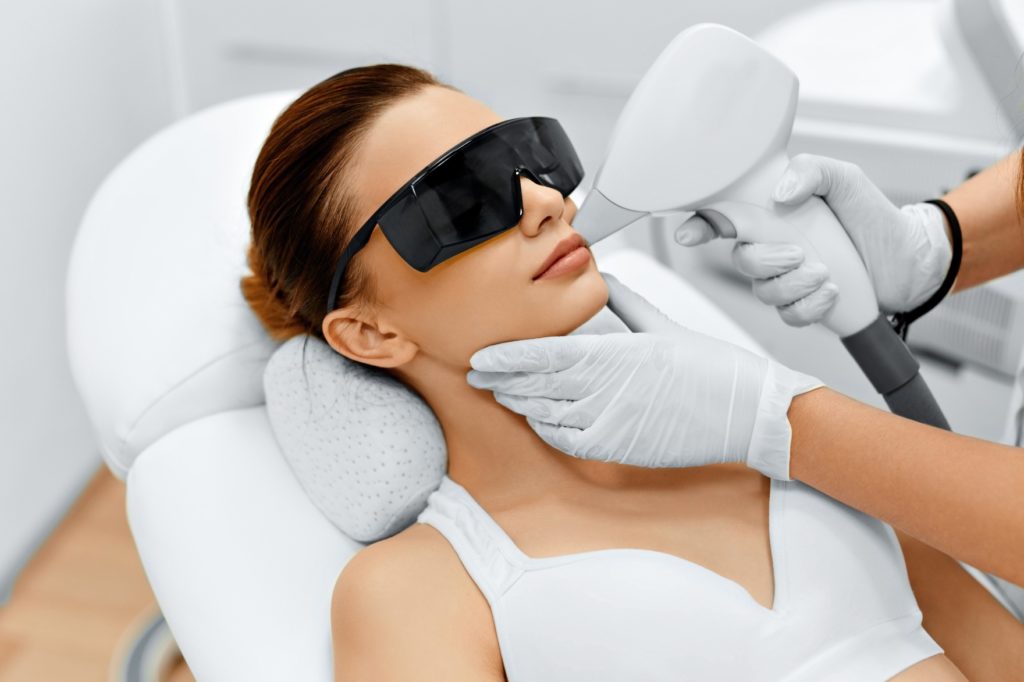 This combination allows for fractionated skin treatments resulting in a cosmetic improvement in pigmentation, tone, and texture of the skin as well as other effects of photoaging. Moxi can be used on all skin types, all year round, with appropriate sun prevention and sunscreen use.
What it is:
Moxi is the Perfect Addition to Any Skincare Regimen Patients everywhere love Moxi – the gentle yet powerful 1927nm fractionated laser designed to meet their needs.
A new favorite among prejuvenation patients, it offers little to no downtime and minimal discomfort for patients wanting to delay the aging process or maintain beautiful skin.
For a radiant, clear complexion, Moxi delivers non-ablative laser energy in just 12-15 minutes, regardless of the season or skin type.
How it Works:
Gentle & Effective
The 1927nm wavelength of Moxi targets water within the cells to work with the body's natural healing process for a gentle treatment that requires little to no downtime.
Non-Ablative Laser Energy
No matter the season or your skin type, Moxi delivers non-ablative laser energy to correct the first signs of sun damage and aging.
The Perfect Pair
When combined with BBL®, this dynamic duo provides patients with even better results.
Downtime:
Little to none.
Treatable Areas
Moxi treats all skin types on the face and body.
Face-chest-neck-hands-arms-legs
What It Treats : 
Moxi focuses on prejuvenation and addresses specific skin conditions.
Pigmentation & Sun Damage
Uneven Skin Tone
Texture
Signs of Aging
Wrinkles
Appearance of minor skin laxity

Moxi Improves Aging Skin's Appearance
The gentle, non-ablative, fractionated wavelength of Moxi corrects pigmentation issues while also delivering dramatic texture and tonal improvements.
Based on your skincare goals, we will create a personalized treatment plan for you. Our team will determine the number of treatments needed, discuss the timing, and provide pre- and post-treatment instructions. Usually, photos are taken before and after treatment.
What to Expect on the Day of Treatment
Moxi treatments may require a topical numbing cream to be applied 30-45 minutes before, depending on the goals you have discussed with your provider. Some practitioners use cold air during treatment. The combination of these two will make you feel more comfortable.
The Moxi Experience
As the Moxi laser glides across the skin, there may be a slight warming sensation, which indicates the laser is working.
As the Moxi creates micro-coagulation zones in the skin, the body naturally repairs these zones and replaces damaged cells with healthy, vibrant ones.
Following your treatment, wear a moisturizing physical sunscreen and avoid the sun. After treatment, makeup can be worn 24 hours later.
Your skin may appear red the day after Moxi, and there may be small microdots where the laser was applied (called "mends"). The microzones will darken and feel rough as they heal. The mends will slough off between days 3 and 5, revealing new skin underneath.
Cleanse your skin morning and night with a gentle cleanser. Apply your favorite physical barrier sunscreen and keep your skin moisturized.
Feel free to reach out and ask us anything! Ready To Schedule Beauty Treatment
Feel free to reach out and ask us anything!